Brad Warden / Japan / Mt Fuji
Mt Fuji
Mt Fuji - Wikipedia
Mt Fuji - Japan Guide
100 Views of Mt Fuji from Kanto (Tokyo Area)
Mt Fuji from Nippori - 2012
Mt Fuji from Tokyo Tech (Ookayama)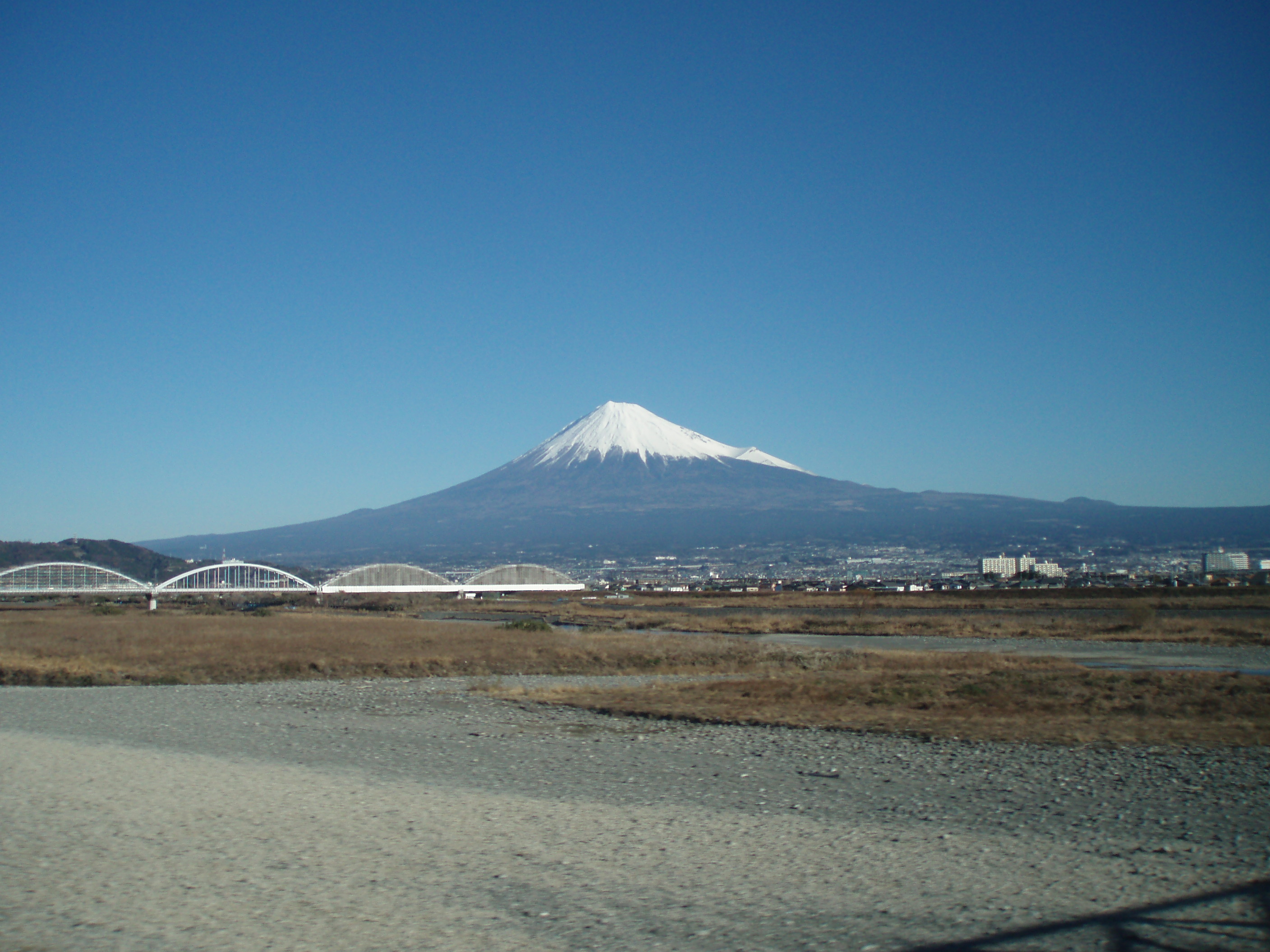 My First view of Mt Fuji when I caught the Shinkansen from Hiroshima to Tokyo on 3 January 2008

Climbed Mt Fuji over night 14 August (fullmoon) and watched sunrise on 15 August 2008, called my brother for his birthday from the top and posted Mum and Dad a postcard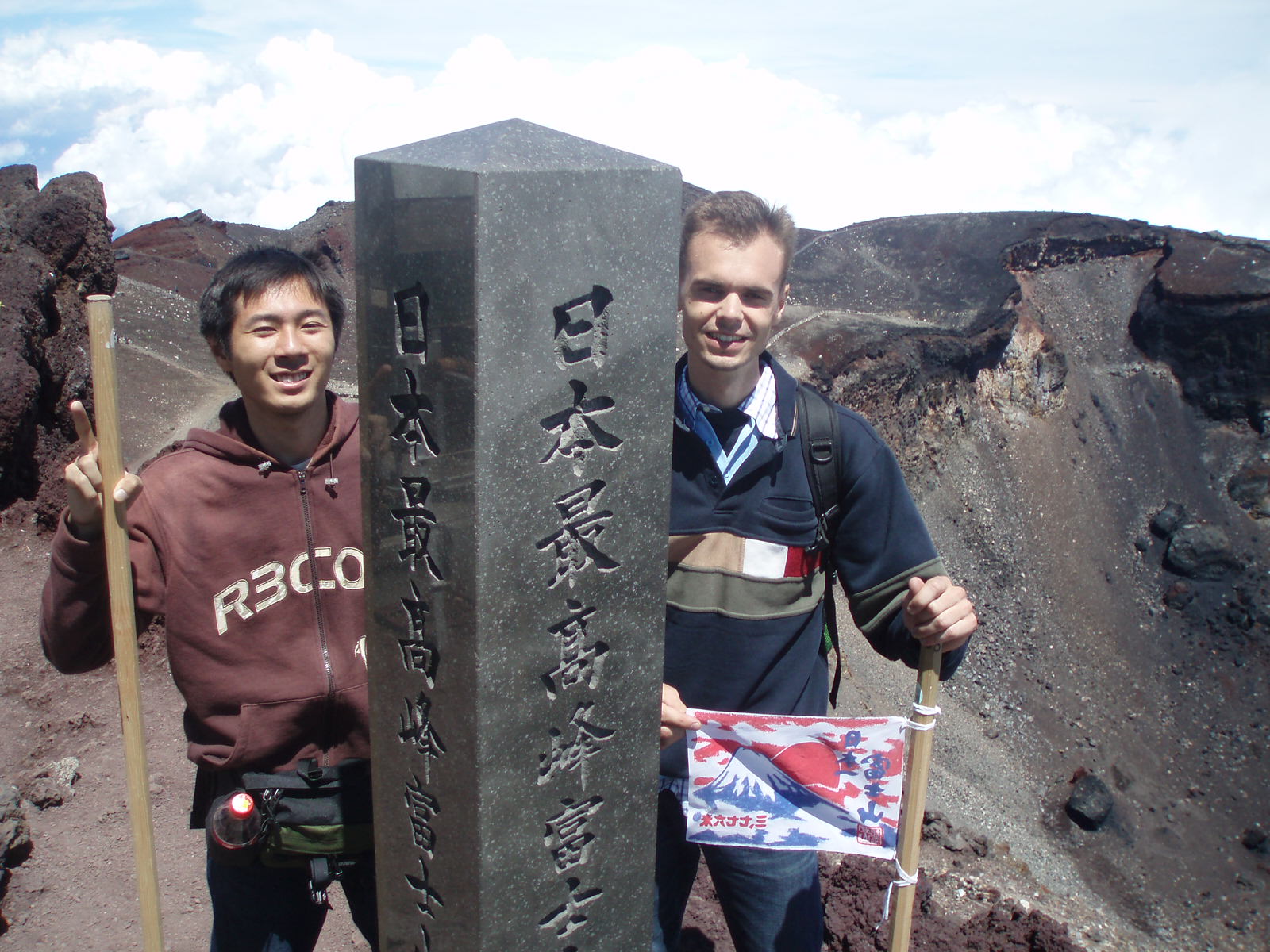 Despite kozanbyo (altitude sickness), Ryuichi-kun and I made it!! Coincidentally there midday on anniversary of end of World War II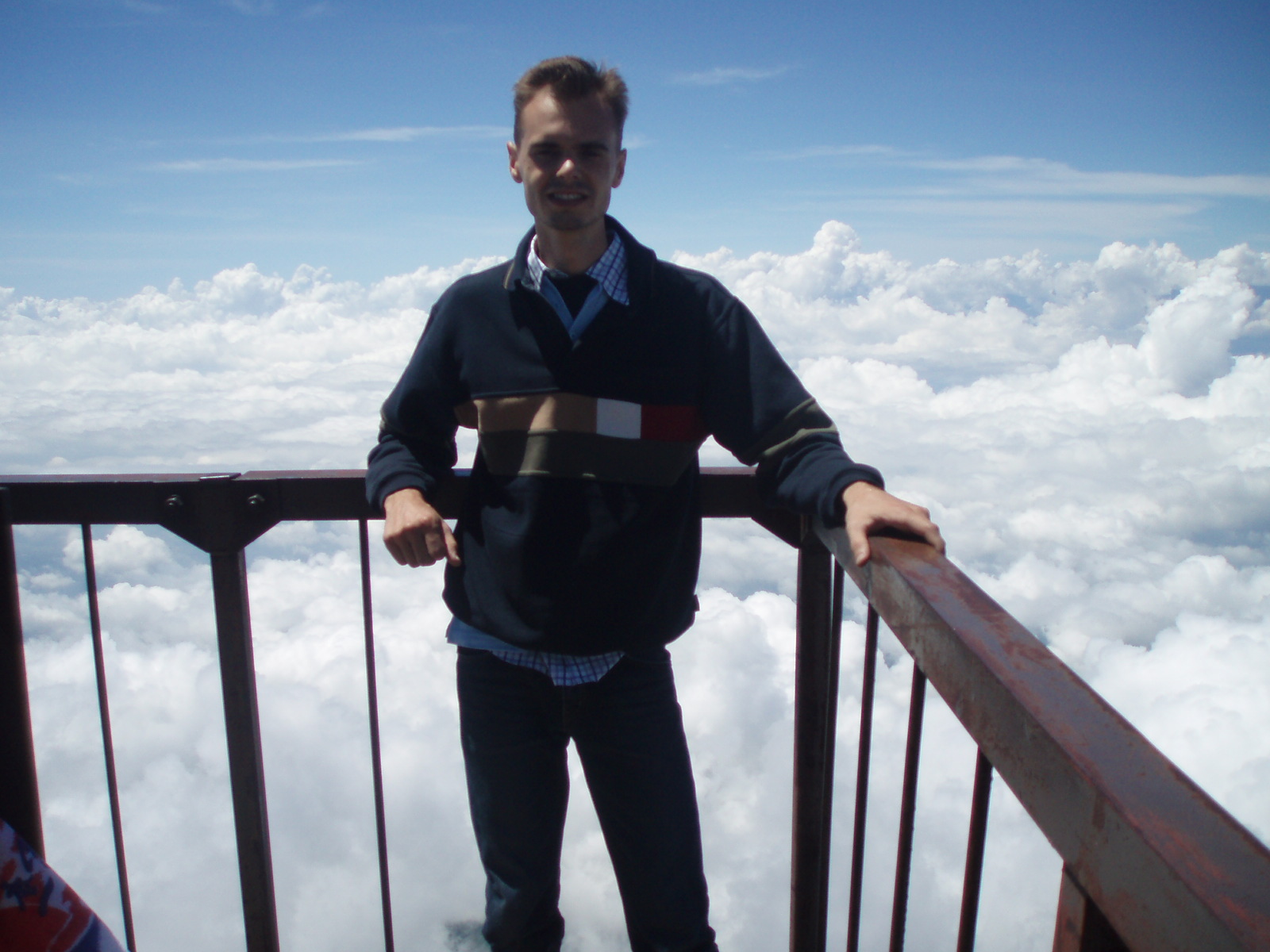 On top of the world!!
I love Mt Fuji.
This morning I was walking to church (yes, it's the only SDA church in walking distance from my house), and walked past Ookayama Station, next to which was a building with some photos that caught my attention. There was a series of photos of Mt Fuji taken from around that train station!! I didn't know Mt Fuji was visible from here!
The captions on the photos revealed that they were taken from Tokyo Institute of Technology, Tokyu Hospital, and Mister Donuts! Looking at the photos I tried to work out exactly where they were taken from. I didn't really want to gate crash a university or a hosptial, but Mister Donuts would probably be ok. I couldn't find it, but based on some other photos, I think Mister Donuts is no longer there, but now is McDonalds, which is a 3-story building on the corner nearest Ookayama Station main entrance.
If you are at Ookayama station, and walk westwards so you can see the train lines going straight (not the ones that curve over the top towards the right, but the ones that go straight towards Okusawa Station on the Meguro Line), then you will see some taller buildings just to the left of the tracks about where Okusawa Station is, and pretty much dirctly above the straight train lines that disappear into the distance, you can see Mt Fuji's summit towering above the mountain ranges which are closer than Fuji.
Now, it must be said that most of the time, despite being line of sight to Fuji, you cannot see Mt Fuji. In summer, you should basically give up on trying to see it because the sky is usually not that clear. In winter, you still have days which, despite fine weather, are not so clear, due to smog etc. But, you will have days which are clear enough (more often than not in winter), which you can see Mt Fuji :-)
Around November and January (not sure of specific dates), viewing from Tokyo, there are days when the sun will set pretty much on or around Mt Fuji. This makes it much more likely to see, even if it is a bit smoggy, and you'll see Mt Fuji sillhouetted against a golden evening sky.
Ookayama is about 10 to 15 minute walk from my house. But, just 5 minutes from my house, not far from Okusawa Station, a little towards Ookayama Station, there is a pedestrian overpass over the railway. From here, on previous nights, I'd go for walks and surprised myself when I was able to see Tokyo Tower in the distance, about 10 km away. It looked really nice, with other business districts visible and the twinkling red lights on the buildings which characterize the Tokyo skyline. I could also see the Sky Tree in the distance in a similar direction to Tokyo Tower.
But, one night a few weeks ago, I went to the same bridge to see Tokyo Tower, and noticed the name of the bridge. It was called "Fujimi"!! "Fuji", of course, is Mt Fuji (same Chinese characters), and "mi" means "to see". As the name suggests, and as I had read recently, it basically is the name of any place from which you can see Mt Fuji. There are many such places arond Tokyo and surrounding areas, but many of these places, due to new buildings, do not offer this same view of Mt Fuji from ground level anymore.
So, from the overpass bridge, on a clear day or sunset, I should be able to see Mt Fuji. Looking forward to it. Maybe tomorrow evening I'll be able to see it :-)
I love Mt Fuji, Tokyo, Jiyugaoka, being in Japan, living in a quiet area but close to central Tokyo, riding on trains, listening to fun music, travelling around, hot springs, technology, systems, order, working in IT, non-aggressive interaction, politeness, ancient culture, catching up with friends, sharing meaningful moments, and dreaming of eternity. Sometimes I wander around my quiet neighbourhood, late at night, and wondering about life, about God, about eternity, about what really matters, about relationships, about people, about my family, my friends and my future family. Sometimes I get a headache, sometimes frustrated, sometimes confused, sometimes excited about the unknown, sometimes just enjoying being here, and sometimes full of hope and optimism.
I can be thankful for too many things, but feel I'd like to share good times with other people to. I hope maybe you've enjoyed somethings in life recently, even if it was just reading of someone else's enjoyable experience.
24 November 2012
---